NASKARZ our next event Crashing the British Car Show!
The NASKARZ Program will be at the British Car Show on May 18th, 2019. You will see the youth walking around the show and a pink Soapbox Racer at booth. So you ask yourself what's it all about what are they doing there it doesn't "fit". Let me explain why I think it does and give some major props to Patrick and the British Car Shows Organizing Committee for their steadfast commitment and support.
You see, these youth are truly the next generation and have been let down on so many levels, they find themselves a couple bad decisions away from some scary consequences. Some of our youth have issues with alcohol and have been struggling with addiction and finally getting straight with healthy supports at 17 years old, Others, are tempted by the gang life not knowing the dangers they are in or its true cost. I know, it still doesn't fit, well cars are like therapy, expensive therapy some would say. They never judge and they offer the kids a chance a place to start over. So NASKARZ is a place to come to find support and mentors willing to help.  
You find people willing to step into the gap and make a different. We are slowly turning things around for some of these youth, who gain valuable skills and confidence from participating in a car show and choosing a car to receive an award, dismantling a 1959 Chevy wagon or putting a suspension in a 1965 Mustang convertible. They develop skills that can last a life time and lead them into amazing careers and away from the known pit falls of gangs, drugs and alcohol. So when you see the pink soapbox racer at the car show come over and say hi and meet some cool kids. I think you will agree it makes sense and it fits. Now you're going to ask why Pink?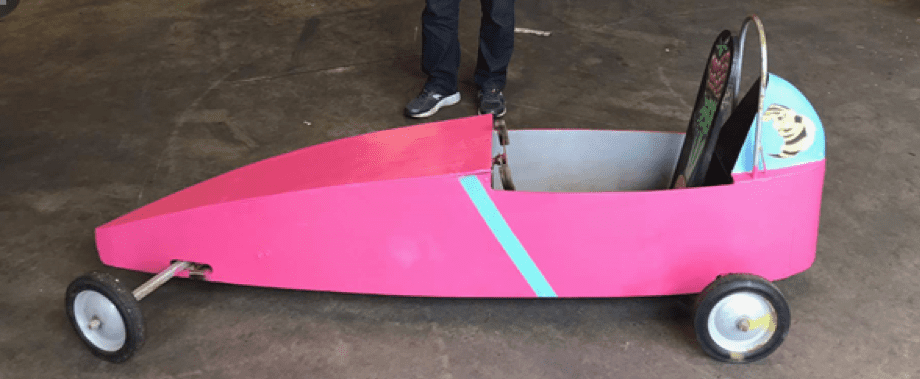 A Little about NASKARZ
In 2019 NASKARZ celebrated its 11th Year anniversary. We have accomplished quite a lot. The evolution of NASKARZ to the current Trade Sampler program further establishes the direction and solid outcomes of the program.
 The Surrey NASKARZ Program started September 25th 2018. We had 14 youth and we currently have 11 students it looks like all of them will receive double credits.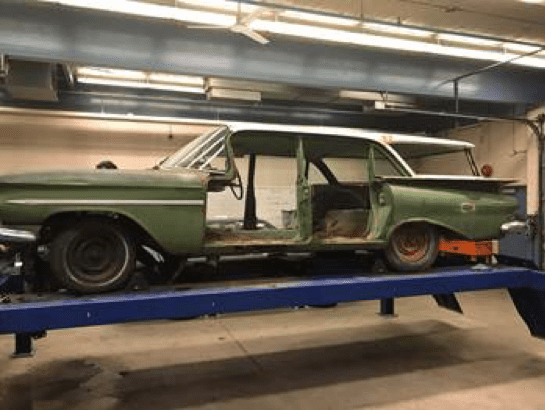 The old 1959 wagon was dismantled and the kids used also sorts of hand and power tools. The kids loved the experience especially cutting off the roof.
We have had a great year and it will get even better in the future. With the momentum that we have created it can only get better and offer more opportunities for the youth. I am very proud of all the hard work by our instructor Taylor COX, our youth work Jon ROSS, the RCMP and everyone that mentored and assisted our youth.
If you would like to become a sponsor of the NASKARZ Program, come and see us or contact the Raycam Cooperative Community Centre 604-257-6949, http://raycam.com, we are a licenced Charity and the kids need your help. I want to thank everyone that helped us get to this point, our sponsors are truly amazing people the get our vision and have compassion for youth. Going soon you will be able to donate on line. Just indicate in the comment section that you want your donation to go to NASKARZ.
 Thank You: Vancouver Community College, ICBC, Direct Liquidation, King of Floors, The British Car Show, Artona, Coast Capital, Watson Gloves, Jellybean Autocrafters, Kool Projects, Porsche Cub, U-Haul, Vancouver Police Foundation, Vancouver Fire Department, G&F Financial Group, Rick's Heart Foundation and The Surrey School Board. 
Tim HOUCHEN 1823
Vancouver Police Department.