Rick's Heart Foundation believes strongly in Conservation. The Fraser River Sturgeon Conservation Society is a not-for-profit organization dedicated to the conservation and restoration of wild Fraser River White Sturgeon. Their vision is a Fraser River White Sturgeon population that is strong, healthy and naturally sustaining for future generations.
To achieve their vision, they focus their resources and expertise on key strategies to:
a) conduct research relating to Fraser River White Sturgeon and to disseminate the results of such research;
b) educate and increase the public's understanding of the Fraser River White Sturgeon by implementing public relations activities, educational initiatives, seminars and workshops;
c) take appropriate actions on key issues facing sturgeon.
As an environmental stewardship and research organization, the Society brings together a diverse community of stakeholders – leaders, all areas of government and First Nations, commercial and recreational fishing sectors, research and education – to work together and make a difference for Fraser River White Sturgeon. Priority areas include: mortality, habitat erosion, technology and recruitment of juvenile stocks.
This is why Rick's Heart Foundation are proud to support 'Fraser River Sturgeon Conservation Society'. Participating in their 2019 Gala by donating the Grand Prize for 'closest to a random length fish encountered'. Winner of this prize was none other than Canadian country music star Brett Kissel.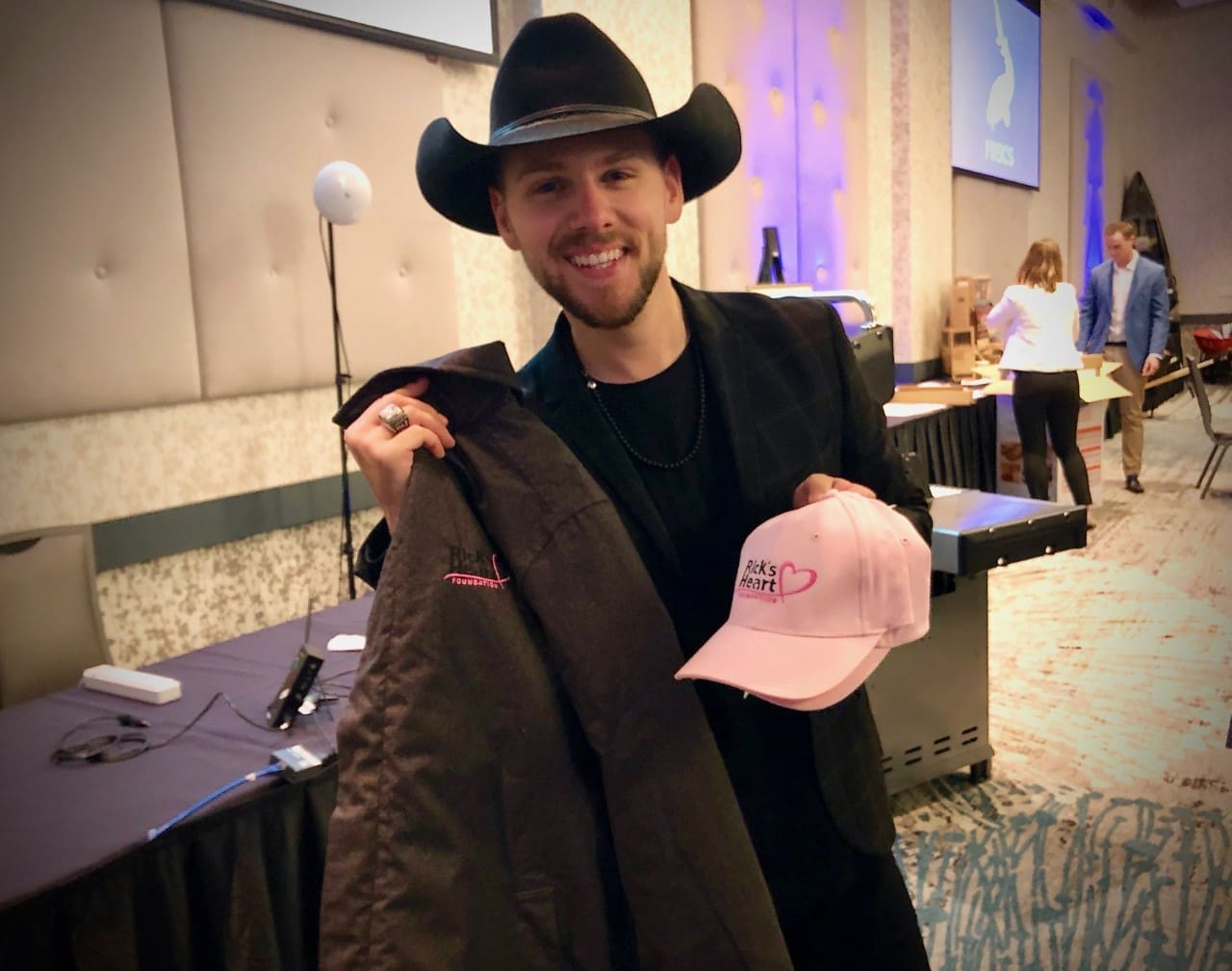 Some interesting information:
White Sturgeon can live well over 150 years and grow to over 6 meters in length.
Fraser River White Sturgeon…
– Have survived two ice-ages; are living in the Fraser River.
– Survive in both fresh and salt water.
– Have captured the imagination of hundreds of students and future 'sturgeon stewards', through the FRSCS Sturgeon Education Program grades 4-7.
– Rely on help from the sport fishing, recreational fishery, First Nations, government and community leaders, environmentalists, conservation experts and the public community.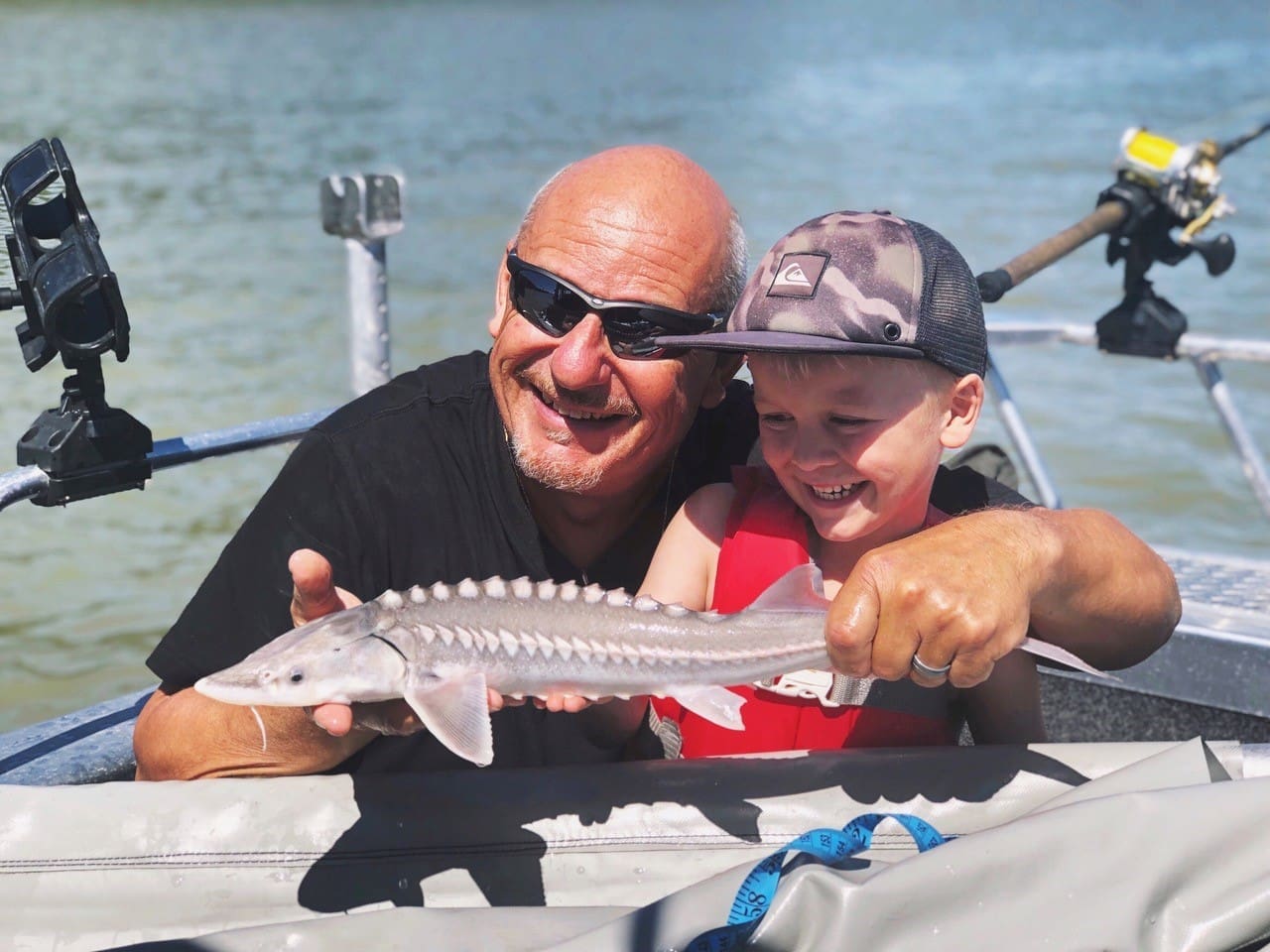 Keeping the Legend Alive! Raised Over $150K for Conservation!
Thank you to all our participants, guests, supporters, sponsors and the team of volunteers, for helping us make 2019 Event the best to date! We are excited to announce that the net proceeds from "Keeping the Legend Alive"; our FRSCS Sturgeon Conservation Challenge Gala Awards Dinner & Auction 2019, exceeded last years' net; raising over $150,000 for the conservation of Fraser River White Sturgeon.
With 26 Challenge Teams fishing from April through October and covering the Fraser River from the mouth of the Fraser River at Steveston to beyond Hope, BC, our event has succeeded to share our sturgeon story with over 350 participants and guests at our Gala Dinner event.
Here are some data highlights:
– Teams collected data from over 290 sturgeon
– Of the 290 sturgeon sampled, over 140 new tags were applied
– And our recapture rate was 49% – which is significantly lower than our overall study at 74%!
Congratulations to our Team Winners:
– 1st Place – Newmont Goldcorp
– 2nd Place – Seaspan Marine
– 3rd Place – LGL "Forever Sturgeon"
Thank you Wes David for doing a fantastic job as our MC.
 A special thanks to Brett Kissel for a great performance and amazing entertainment, and to FRSCS Founder, Rick Hansen for an amazing keynote address that inspired all of us to focus our efforts and help make a difference.
Thank you to Rick Bourne, Langara Fishing Adventures, for providing us with the big prize – an incredible trip for four (4) to Langara Fishing Lodge. We are so grateful for your support.
Stay tuned…FRSCS Sturgeon Conservation Challenge 2020 date coming soon!!!!
*********
We Want to Hear From YOU! Be the Voice for Sturgeon!
If you want to help make a difference, share your voice, get involved and make your concerns heard, please join our new Sturgeon Stewards Chat. This Chat is a unique way for people like you who care about this incredible species, to express your thoughts, priorities, and concerns about the future of Fraser River White Sturgeon.
Register on your mobile device and you will receive updates and information from the FRSCS on our conservation initiatives and have the opportunity to participate in brief surveys to collect your thoughts about ongoing sturgeon issues and priorities. You can help educate others, share the sturgeon story and also get active and engage in sturgeon advocacy.
Please join The Sturgeon Stewards Chat at sturgeon.rival.chat and help us raise a strong voice for White Sturgeon.
Best regards, 
Sarah Schreier, Executive Director
Fraser River Sturgeon Conservation Society