Naskarz had a booth at the '2019 Vancouver All-British Car Show' on May 18, 2019
About the Event
Close to 500 classic cars showcase their classic lines and curves throughout the luscious lawns of VanDusen Botanical Garden on Saturday, May 18, each with a story to share under their boots and bonnets.
This spectacular gathering of classic cars only comes together once a year to swap stories, parts, pieces of nostalgia and possibly snag a "Best in Show."
Dubbed "The Greatest Show on British Wheels," the Vancouver All British Field Meet (ABFM) celebrated its 34th year on Saturday, May 18, 2019. Featured marques are Bentley, Mini and AJS Motorcycles.
At the event Rick's Heart Foundation and Naskarz debuted the new "model car", it was quite the crowd pleaser.
The kids at the show, picked a 1969 Jaguar owned by Mr. Hale of Victoria to receive the youth's choice trophy.
The show had over 500 cars on display, and the show was well attended.
The kids spoke with many folks interested in the pink soapbox racer. Numerous kids sat in the car and had their picture taken.
Several youth took applications forms for the upcoming VCC NASKARZ trade sampler for the summer.
All in all, it was a great day to get out and meet folks with the youth.
Thanks Patrick (Western Driver) and all the staff and volunteers for once again being a wonderful host, and Rick's Heart Foundation for supporting our program and making the soapbox racer even more cool.
 Tim Houchen, Sergeant 1823, Vancouver Police Department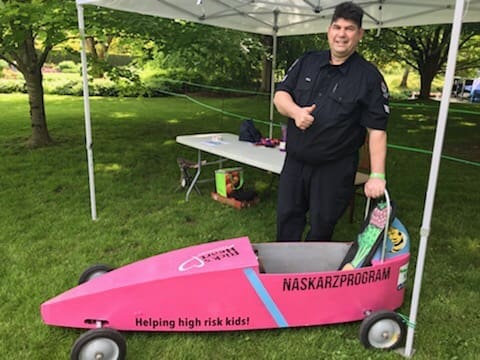 It was great to have Naskarz back again this year. Getting kids involved with old cars is important to the show. The judging seems to go over well, and I liked that you had one of the youth do the announcement.
Best, Patrick ~Western driver