Here is a story from a few years ago, highlighting the work Rick Diamond did personally with his company Diamond Delivery. The whole company worked hard to fundraiser the $56,000 for the SIM Baby donation to Surrey Memorial Hospital.
Diamond Delivers Baby
When an emergency strikes, you want to be well prepared.
That's the approach taken by Surrey Memorial Hospital's Neonatal Intensive Care Unit (NICU), which is
training with a high-tech simulation doll purchased with a donation from Diamond Delivery.
Representing a full-term newborn, the SimBaby simulates a variety of conditions (from a limp cyanotic
newborn with no vital signs to a moving, crying newborn) and makes regular movements and sounds such as breathing, heartbeats and even seizures.
The computerized mannequin allows staff to train on scenarios that occur infrequently. That way, the NICU
team will be well prepared when a real-life emergency takes place.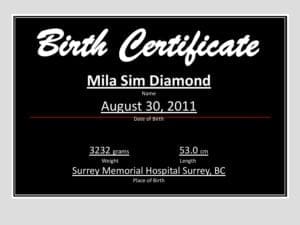 The SimBaby was bought with the help of Diamond Delivery, which raised the money for Surrey Memorial Hospital
Foundation during a company fundraiser.
In honour of the gift, the neonatal staff have named the doll Mila Sim Diamond.
The timing of the purchase is perfect, as the hospital is undergoing a massive expansion. The NICU is among
the departments which will grow in size, doubling to 48 beds in 2014.
The SimBaby will offer much needed training opportunities as new caregivers join the NICU in the years to
come. "
Help support your hospital.
We live here, we give here!
Donate today at www.smhfoundation.com