Our Founder Rick Diamond through his company Diamond Delivery embarked on sponsoring medic training and an ambulance for Liberia, a nation in sub-Sahara West Africa.  
In partnership with the Liberian Ministry of Health and Korle-Bu Neuroscience Foundation (B.C.), an ambulance service which launched in Fall 2018. 
In partnership with the Kamloops Firefighters Charity Association, an ambulance was purchased in Montreal and driven across the country by Kamloops firefighter David Sakaki and Rick Diamond, owner of Diamond Delivery. 
Along with the ambulance, the container will deliver medic emergency equipment necessary to protect and support critically ill patients along with hospital beds and equipment for Rennie Hospital, a rural hospital severely impacted by Ebola.  Dr. Francis Kateh, Deputy Minister of Health & Chief Medical Officer for Liberia identifies the transformation this service will have on the country. "The importance of an organized, centralized EMS (Emergency Medical Services) for our health care delivery system will cannot be overemphasized. 
Its impact will be felt at all levels of care and will go a long way in helping us reduce mortalities and improve outcome for our pregnant women , neonates, infants and victims of road traffic accidents." A celebratory launch was held at the BC Legislature, attended by MLAs and stakeholders.  The ambulance is being named "Patrick" in honor of a West African engineer who inspired the critical need for an ambulance service.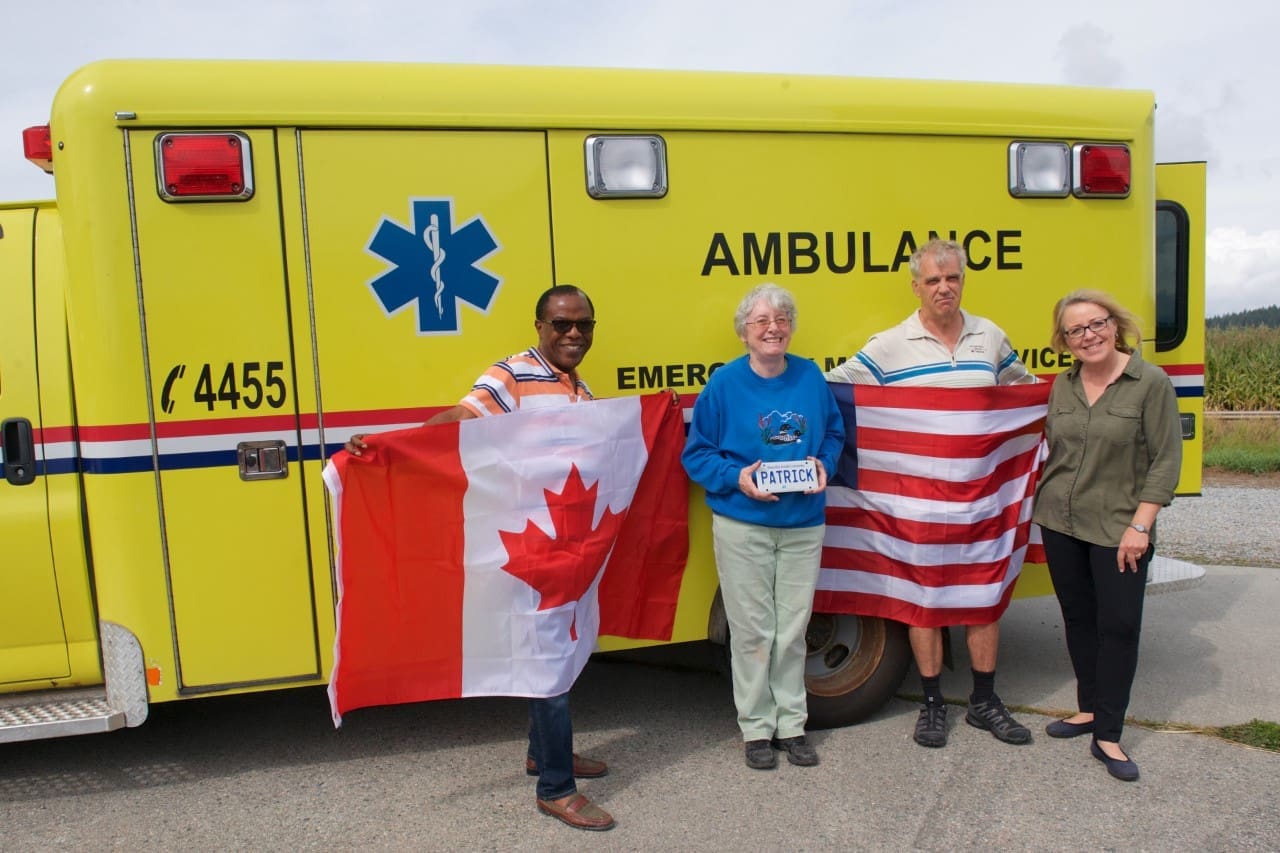 Liberian official thanks Kamloops for 'life-saving' gift
Jan 30, 2019
MONROVIA, LIBERIA — The keys to Liberia's first fully-equipped ambulance have officially been handed over, and citizens are thanking the Kamloops community for its generosity.
Local firefighter and humanitarian David Sakaki is currently in the country's capital city of Monrovia, where he helped pass the keys off to Liberia's Health Minister and Deputy Health Minister.
"We were able to deliver the ambulance that we put together in Kamloops," Sakaki says. "We loaded it in a container and sent it off several months ago. The reaction for the delivery of the ambulance was incredible. The minister of health, the deputy minister of health were just about brought to tears. This is something that this country desperately, desperately needs, and it will be put into service almost immediately."
The $14,000 ambulance was purchased last year thanks to a generous donation by Kamloops company Diamond DeliveryDeputy Health Minister Francis Ketah says over the years many women have died during or after childbirth because they can't get to the nearest hospital to deliver.
"The need for ambulances in Liberia is so important, and so we are very, very grateful to have an ambulance being delivered and there is a need for more ambulances," Ketah says. "Receiving the keys to the ambulance was a lifelong dream coming to reality… to be very honest, words are inadequate to express how appreciative I am on behalf of my people, the people of Liberia, for receiving this God's gift. I think one of the best gifts that one can give anyone is saving lives."
Sakaki says this new ambulance — named "Patrick" — is going to change the city of Monrovia.
"It's really going to help the people that are struggling to try and provide exceptional health care," Sakaki says, "and this is a country that's recovering from a horrible, horrible outbreak of Ebola years ago. During that crisis they were fighting the Ebola with basically just pickup trucks as ambulances and this ambulance definitely could have been used back then. It's better late than never so they're just very, very happy to get this."
Ketah added that this new vehicle will save hundreds of thousands of lives.
"I'm so grateful to every one of you for the gift that you are giving to us in Liberia. Thank you and God bless you all."
~ byAshley Legassic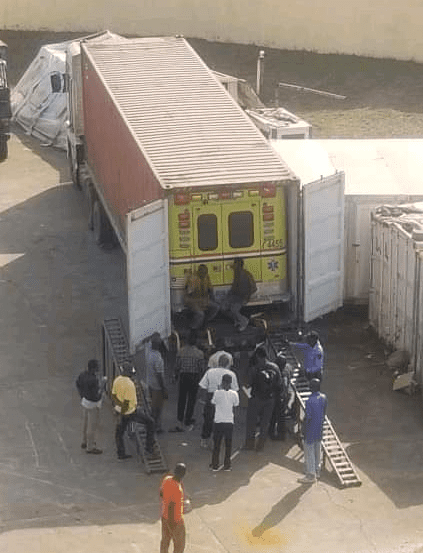 The Ambulance in Liberia being unloaded above.