During Winter 2018, a few local community minded individuals from St. Helen's Anglican Church were brain storming on how to give back that Christmas. Fast forward a few weeks and connections were made between St. Helen's Anglican Church, Surrey Urban Mission, Soap For Hope, and Rick's Heart Foundation. What better way to give back but by partnering together, creating a larger impact!
Unless we make Christmas an occasion to share our blessings, all the snow in Alaska won't make it 'white'. ~ Bing Crosby
Together much needed items were gathered to fill 300 Care Packages for those who were homeless or struggling, connected through Surrey Urban Mission. Volunteers gathered to put together to assemble these packages; packed
with soap, brand new toothbrushes, radio's, socks and so much more.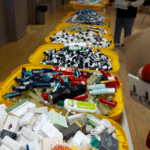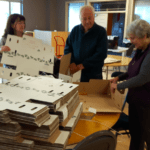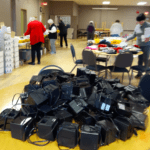 Rick's Heart Foundation was proud to provide transportation and $3,000 to help fill the boxes with specialty items. Thank you to everyone involved in this project and we look forward to working together next Christmas!
Mike Musgrove, Executive Director of Surrey Urban mission, came down to load up all the Packages and took them directly to the individuals who could use them at SUMS.