Rick's Heart Foundation is proud to have funded this UGM Mobile Mission Surrey Pilot Program and see the direct impact results it had. We are excited to see what the future holds for this Program and Surrey. Continue reading for details about this Project.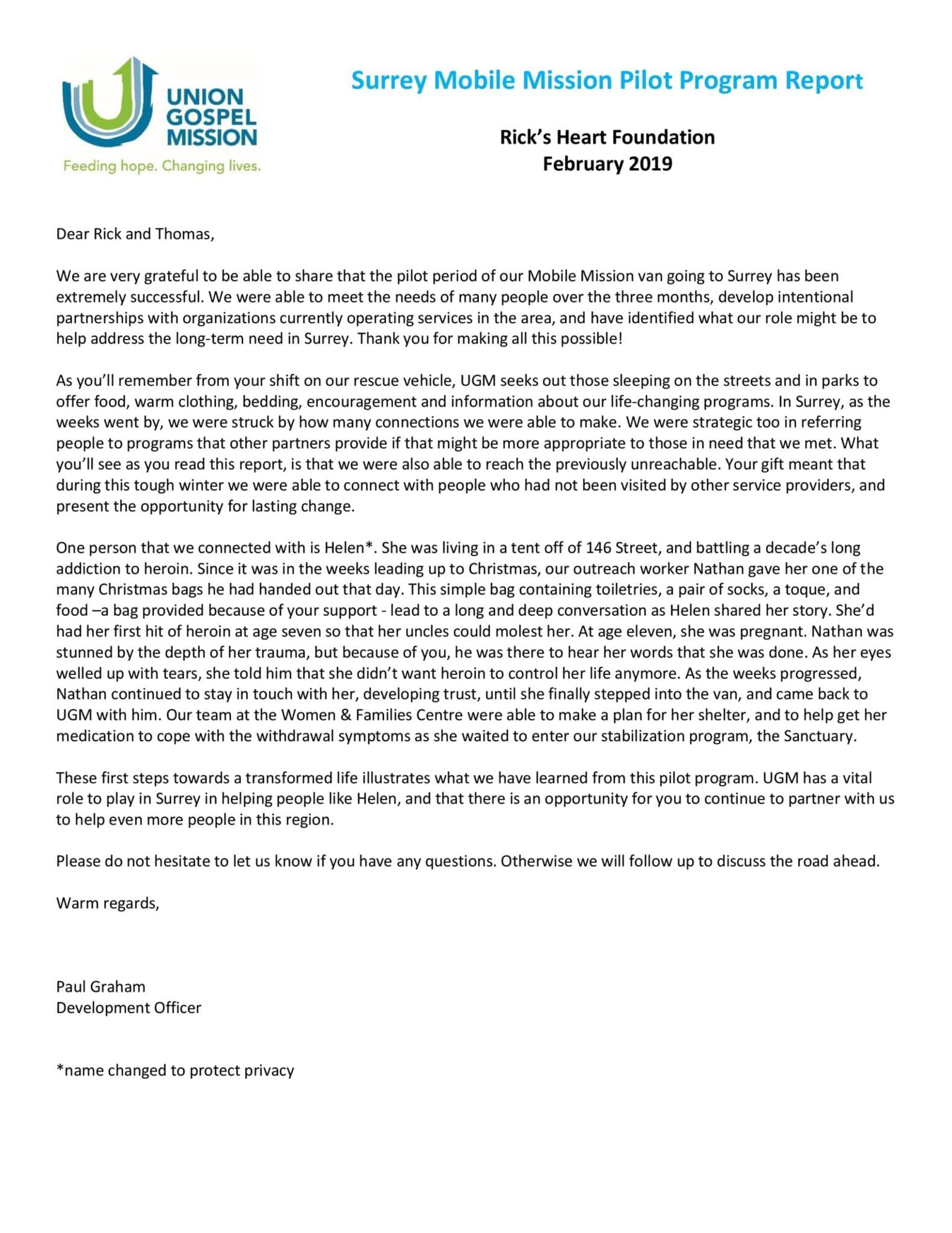 Meeting the need
Many people living with homelessness in Surrey are located deep in parks which takes time to walk to as they are not accessible with the van. In the map below, you will see where the majority of encampments can be found, and many of these are places that have not been reached by other service providers. We also connected on a regular basis with an isolated encampment in Cloverdale. We have been able to make several referrals to housing and recovery services. As you know, working with these extremely entrenched long-term homeless people is a lengthy process of building relationship and trust that begins with these regular visits. You made it possible for us to demonstrate on a consistent basis that someone cares, and on the map you can see a proposed route to keep delivering that message of hope.
Nov – Jan Connections 
 22 trips
 281 people met
 231 distributions (items of clothing, blankets & hygiene kits)
 115 referrals (to recovery, detox, shelter, case management/housing, mental health, physical health, financial/legal/ID) 
Developing partnerships with other Surrey organizations
We were warmly welcomed by partners in the Surrey area, and attended meetings of all groups including Surrey Urban Mission, Nightshift, and the Surrey Outreach Team which included by-law officers, RCMP, Correctional Health, Fraser Health, and other non-profit partners. Through these regular meetings we were able to identify parts of Surrey not covered by these partners, and as a result were able to be more effective and strategic. We received approval and support in particular from the by-law officers, who included us on ride-a longs with them. This eventually led to us being contacted when camps were being dismantled so we could be of support to people in the camp at that critical moment. 
Thank you for being a catalyst for great things in Surrey and for funding this incredible pilot.