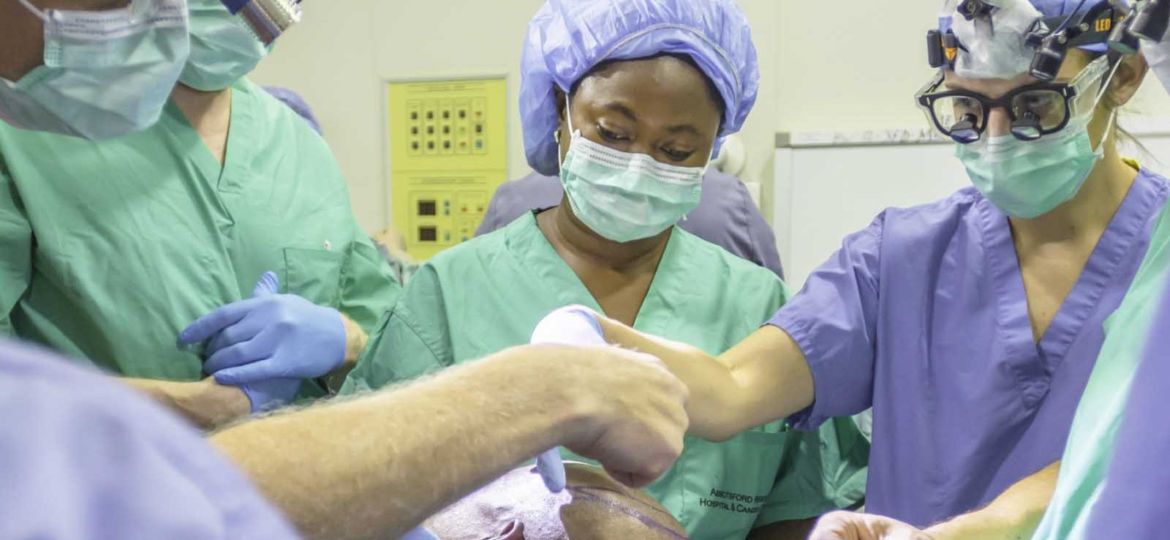 Dear Rick's Heart Foundation,
Thank you so much for joining us for our Korle-Bu Christmas Fundraiser Campaign and allowing us to share some treasured moments from our recent neurosurgical mission with you. The films captured some of the heartfelt emotions that patients receiving life-altering surgeries experienced, and the stories from Marj included important information and context with a lot of smiles and laughter.
Below are the 2 films (Liberia & Ghana) about our missions.
We knew it was ambitious when we started our holiday fundraiser campaign to raise $50,000- to provide KBNF with the resources needed to continue making medical miracles in West Africa. Still, we have been blown away by the love and support from Korle-Bu supporters like you and are so close to reaching that amount! Thank you!
We still need to raise $10,150 by the end of the year to reach that goal! Please help us by donating or spreading the word. Together we can make such a difference!
With Gratitude,
Korle-Bu Neuroscience Foundation
2021 Christmas letter from the President
Dear KBNF Family,
What a year it has been. Whether local or abroad, we all pulled together and dug deeper than ever before to make 2021 incredible. 
When KBNF first began, Brenda MacLeod and I had no concept of the depth and breadth of the journey that we had embarked upon. I recall accepting medical consumables from closed rural BC hospitals, having no idea as to the quantity, we were shocked to walk into a basement packed with skids of medical supplies. I whispered: "Brenda, what are we going to do?" Her response established KBNF's genetic code: "We'll just do it." And we did.
This year, we made maximum use of 10,000 sq ft in the underground parkade graciously provided by John and Chawna Volken for warehousing. Eight assembled and loaded shipments were delivered to Nigeria, Ghana, and Liberia by our faithful and often exhausted volunteers.
Our Ghanaian mission trip raised the need to develop critical care/neuro specialist nurses, provide neurosurgery tools and equipment for neurosurgeons, and support hospital expansion by providing hospital equipment and supplies.
KBNF-Liberia Foundation Board of Directors met for the first time in Monrovia, Liberia. It was exhilarating listening to the passion that our West African board (including two Ghanaian surgeons) brought to the table.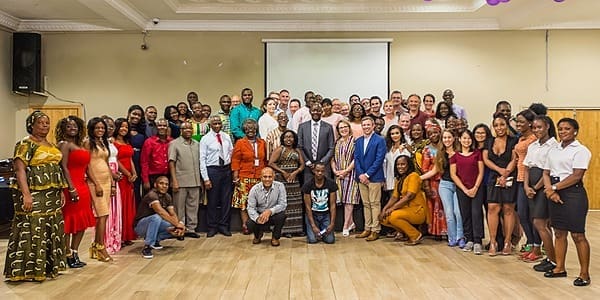 Liberia saw the launch of our 5th national neurosurgery mission. Hosted by JFK Hospital in Monrovia, 39 patients, from newborns to the elderly from across Liberia and even a Sierra Leone teenager, received interventional care from our expert team. Some days three operating rooms were in full swing as our multinational neurosurgery teams often worked late into the night only to return first thing the next day to do it all over again. Did KBNF quit? On the contrary, we found a way to overcome challenges. "We'll just do it."
Every time KBNF ships a container, we build neuroscience and health care infrastructure. The KBNF-Liberia warehouse serves as a lighthouse. Our mission was wholly dependent on our warehouse resources to conduct neurosurgery. Every anesthesia monitor, ventilator, C arm, and microscope is part of the unfolding of your diligence back here at home. As Rose and our volunteers diligently organized the warehouse, firefighters received the jaws of life and protective gear; Sierra Leone received medical supplies for 100+ burn victims (requested by the Liberia Minister of Health), a new Liberian hospital devoid of any furnishings received 15 hospital beds, bedside tables and consumables, and new mom's received perinatal gift boxes. An ophthalmology microscope was handed over to the eye surgeon and within one day, 20 patients had cataracts removed and their eyesight restored. These are but a few of the beautiful moments of our resent trip and the impact KBNF has in Liberia.
We wish you all a very Merry Christmas and a wonderfully inspiring New Year to come.
Love, Marj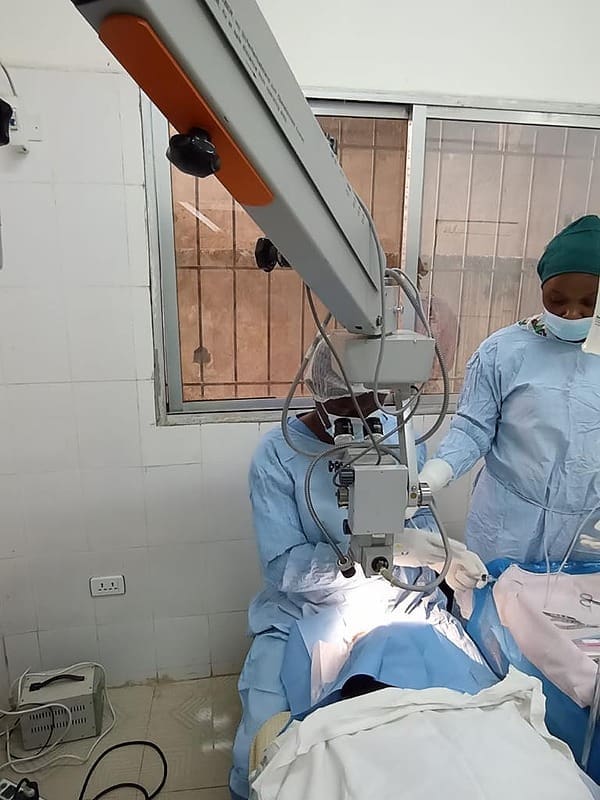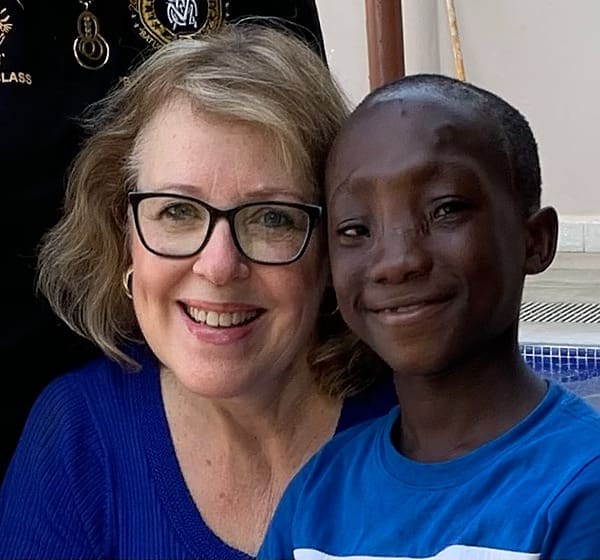 Meeting up with Samuel!
You can't imagine my excitement when Dr. Ben Kolee informed me that Samuel was waiting to see me before our departure home. As I approached the hotel, our 11-year-old miracle hurled himself out the door and into my arms. It was my most cherished moment of this mission. Samuel is taking three extra tutoring hours of schooling daily as he catches up on his studies. He is certainly well-loved by our KBNF Liberia team. When asked what he wants to be when he grows up, Samuel whispered: "A doctor."
Belief in a future full of potential is nation-building at its best. Samuel's transformation is a living example of the potential West Africa has to rise above seeming impossibilities and conquer the challenges with "we'll just do it."
Momoh's Story

Momoh is a 14-year-old boy from Sierra Leone. He was diagnosed with myelomeningocele, first evident at age 4. He has not attended school in years because of severe teasing and being called a witch with two heads.
A doctor drove from Sierra Leone to Monrovia, about an 8-hour drive to share some images on his phone, hoping that our surgeons could help. They looked at Momoh's photos and said if he got the boy there the next day, they could help. The Dr. drove 8 hours back to Sierra Leone to pick up the boy and went back to Monrovia, Liberia, the next day.
Dr. Akoto was able to remove 75% safely and will be able to remove even more in a second surgery that can take place three months from now.
Momoh had the biggest smile when he woke up and saw the remarkable change.
Thank you for your continued support. You are a part of the change in this boy's life and many more because of your generosity.
Many Blessings
Rose