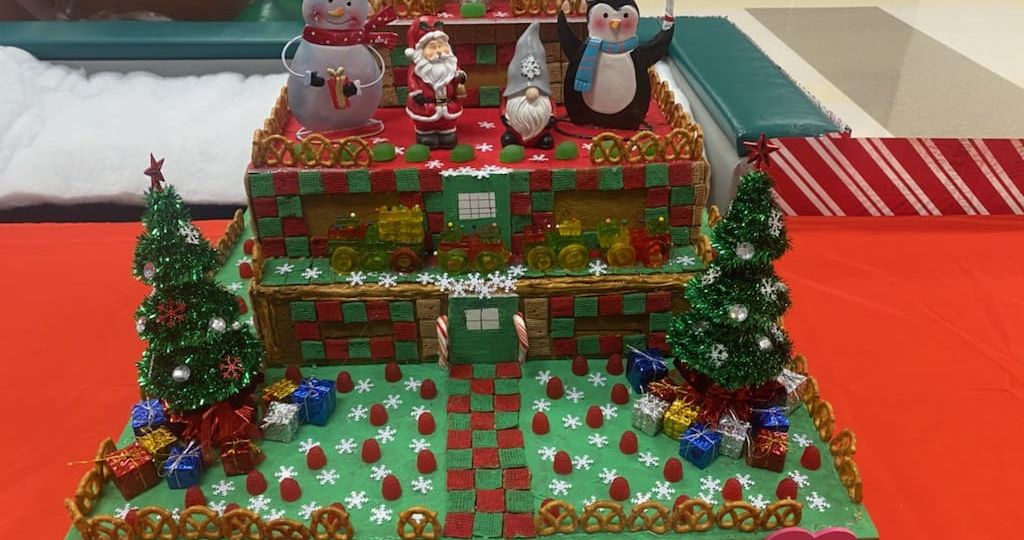 Rick's Heart Foundation is all about JOY! 
In November, Jeff at Direct Liquidation donated a few gingerbread houses to the foundation. Our very talented volunteer June then redecorated them. The gingerbreads are being displayed across the lower mainland to raise awareness for our 'Give The Gift of Music to a Senior This Christmas' Campaign. This year our gingerbread display (pictured above) won 2nd place in the Charities/Non-Profit category at Surrey's BIA Gingerbread competition.
Surrey BIA Gingerbread Story ~ Surrey Now – Leader
The gingerbread was displayed at Central City Shopping Centre from December 4th until December 12th. Donations were collected for the Surrey Christmas Bureau. On December 13th, this display was moved to Deltaview Care Home.
The above Gingerbread is on display at Tsawwassen Spring golf course.
KinVillage 
This stunning pink display was created by Steve and Elle, two incredible volunteers. Along with Lonne Clark, they dropped the display and gingerbread house off to KinVillage to provide some smiles this Christmas Season. Inside the pink box are heartfelt messages, like Fortune cookie, for seniors to open. This display also lights up! 
Thank You to Steve, Elle, and Lonne for making this happen.