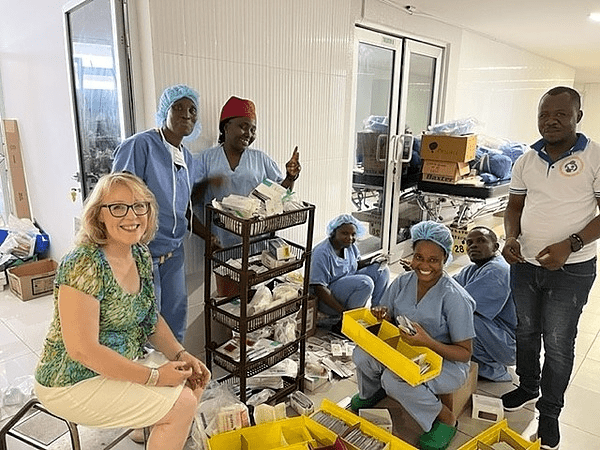 For over ten years, Rick's Heart Foundation has supported Korle-Bu Neuroscience Foundation. It brings us great pride to see their incredible work across Liberia. Read their November update below.
MESSAGE FROM OUR FOUNDER
Hello KBNF family and friends,
The first of our mission team arrivals occurred over a week ago.
Rose Woller, Ernie Pauls (ret. MD), Ingo Neufeld (seasoned mission team cameraman) and I were grateful to collapse into bed at midnight after 32 hours of travel from Vancouver.
While Rose manages this complex mission, Ernie is supporting Alvin Nah Doe, our Liberian neurosurgeon, in the outpatients department while helping me care for dozens of anticipated neurosurgery patients.
In the meantime, there is copious preparation to be accomplished as we set up the nursing units, ORs, and postop unit. Ingo is capturing our mission story on camera. We will be joined by a videographer part way through the mission as we capture stories on film.
You will be hearing from me, as I take you us all on this journey together.
You are as critical to this mission as any team member.
Your financial support enabled this mission in the first place and never underestimate your impact. We are a team, creating miracles in many lives and communities.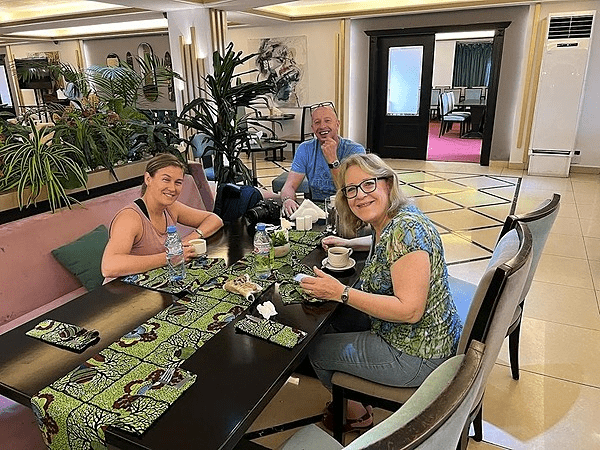 WAREHOUSE OPERATIONS
Last weekend was spent gathering up the supplies and equipment we will need for the mission.
We are grateful for the diligence of Helen, our Liberian operations coordinator, and her team in maintaining the warehouse.
It's a mammoth job to receive a 40 ft container packed to the gills, unload it with brute strength (there is no loading bay), organize into medical systems, make available and distribute across the country.
Recently, Helen received 2 shipments days apart and the warehouse is brimming with "treasure" waiting for its final destination.
Consequently, we are ensuring that Helen has sufficient manpower to help with manual labour.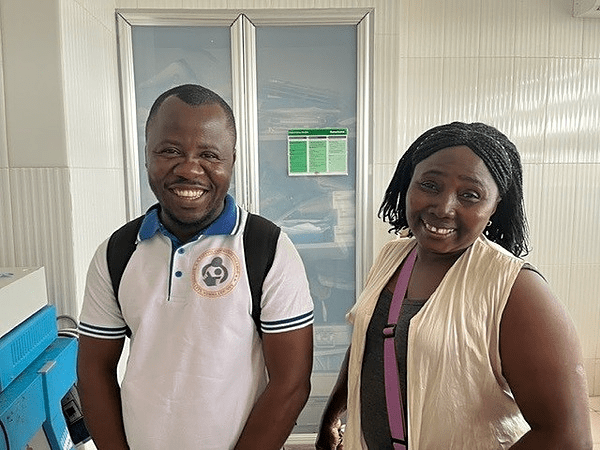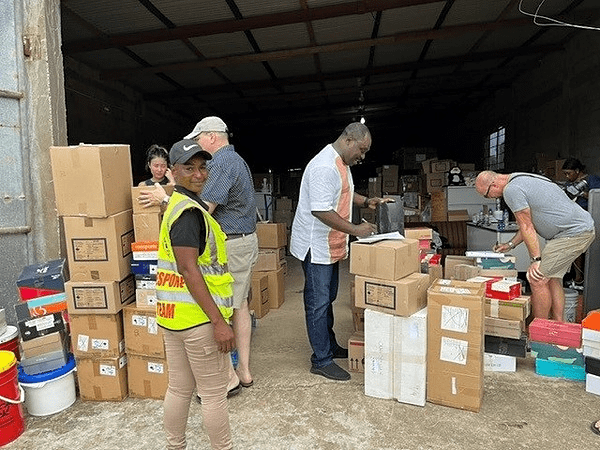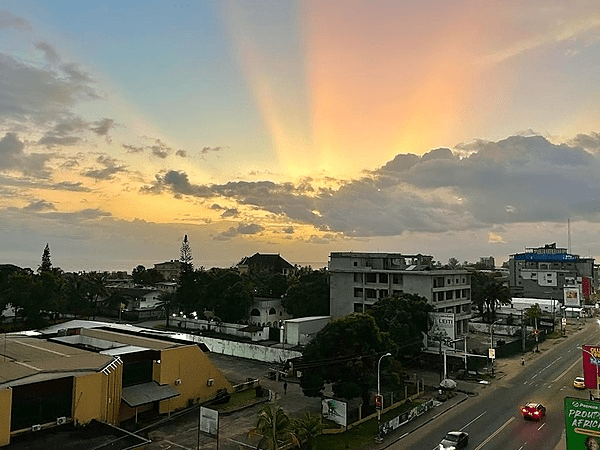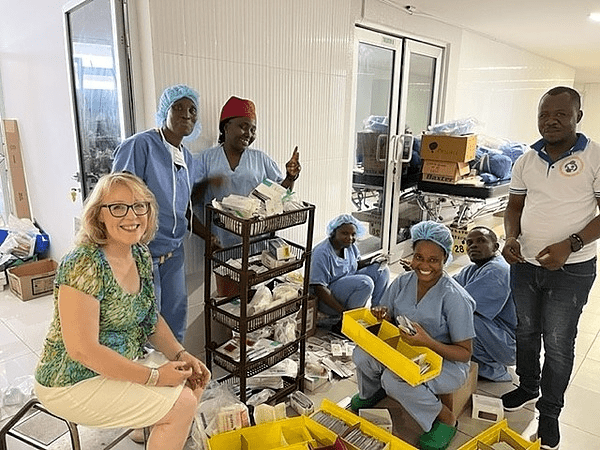 Orthopedics Receives Quality Donations Not Seen In Years
Meanwhile, a busy day ensued, while handovers of medical equipment and supplies were received by an incredibly grateful JFK orthopedic surgeon and an owner of a non-profit community medical clinic.
Dr. Robert Mulbah had never seen steri-strips in Liberia. Steri-strips often prevent the need for sutures. Major surgery dressing packs, braces and splits, cast materials, are of a quality he has not seen in years.
Then a surgical handheld irrigation tool totally excited him. He packed his car to the ceiling. He returned the next day to acquire an examining table for his office. He had never had one.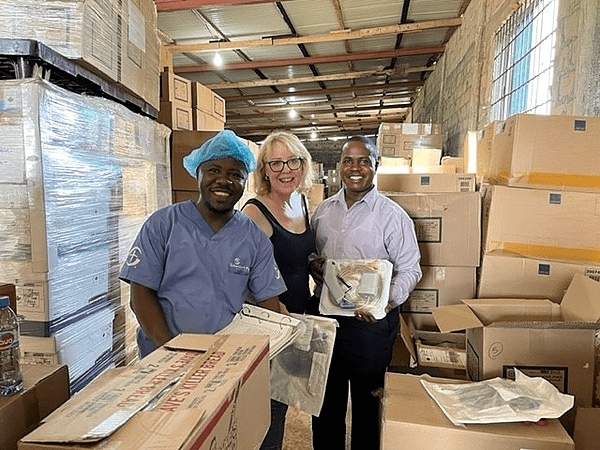 Loss delivers Heart Power to a vulnerable community
During the late 1990's civil war, Pastor Josephus Brown's 6-month pregnant wife had survived on a diet of Lipton tea as her only staple for 3 months. She collapsed and when carried to the hospital, she was denied care due to her grieving husband's inability to pay $5.
During Josephus's earnest prayer, the physician changed his mind and her life was spared.
Tragically, their baby boy was lost. In gratitude to God for sparing his wife, Josephus's promise that he would care for the poor was fulfilled when he opened a clinic to serve a population of 20,000 in Johnsonville and neighboring communities.
Relying on local Liberian financial support enabled basic health, perinatal, trauma, and malaria care. Government provision of supplies has dried up in recent years, while Liberian financial support has also diminished. Consequently, his $200 / month pastoral salary is consumed in keeping the clinic in operation.
Josephus has received KBNF consumable support since his clinic was visited in March.
His warehouse visit last week resulted in the retrieval of pairs of crutches, a wheelchair, and a filing cabinet packed with copious consumables.
He left with his vehicle packed to the brim and a relieved, beaming smile emanating from his face.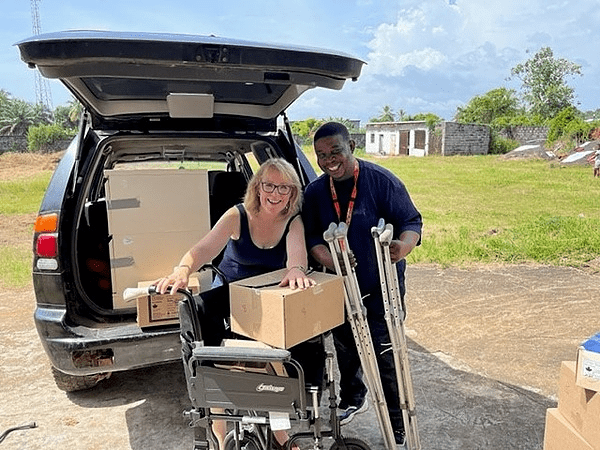 Heart-Powered Smiles Four young fellas have attended the warehouse daily, volunteering their time for months.
Helen will often cook rice and vegetables outdoors for them while a $dollar/day (USD) each is now provided for their work.
I have been teaching them the value of a smile. Suddenly, one of the young men had a reveal and burst out: "No smile, No work!" They all burst out laughing and now you often hear the boys repeat the phrase with a giggle while a gorgeous smile enlightens their faces.
Heart Power lessons are being taught every day, Helen in our absence and myself when available. In all, we are investing in the lives of 4 precious youths that have no other income options.
For anyone that would like to support their funding, we are seeking donors for $88 (USD) / per month.
Rose figures that feeding them costs about the same, so another donor would be appreciated for this as well.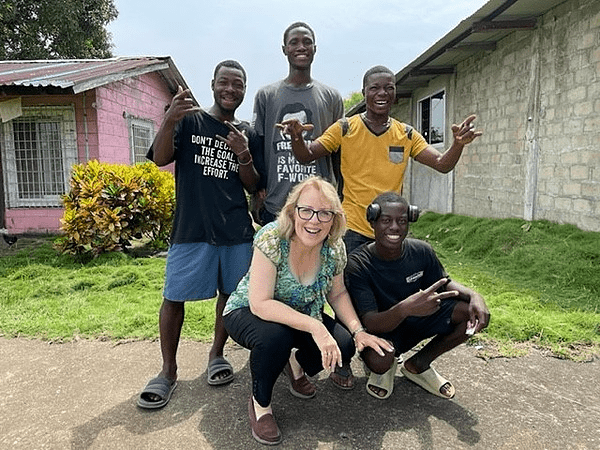 Stethoscopes
Ernie Pauls graciously donated funds to supply nurses participating in the 2-day nurses training program and mission, 55 stethoscopes. I couldn't be more pleased! When sharing the news with Alvin Nah Doe, our Liberian neurosurgeon and one of our newest Board of Directors, we learned that he has never owned a stethoscope.
When in need, he borrows one from the emergency department. That certainly put a different perspective on the value of these stethoscopes.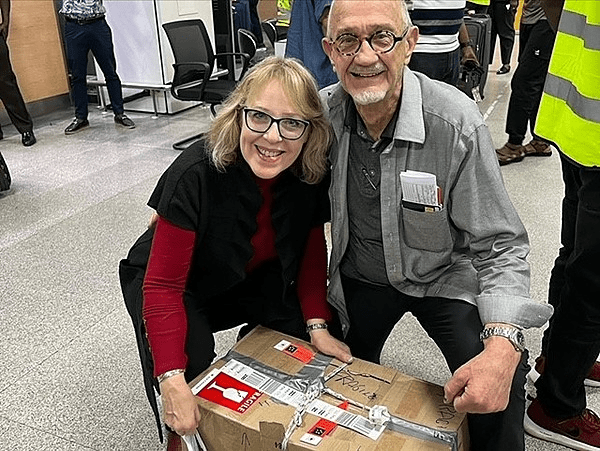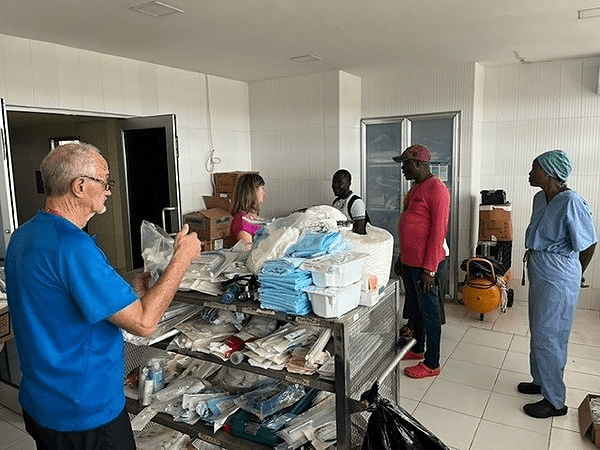 Laptops and Nursing Support
Alvin is the recipient of a new laptop courtesy KBNF. The previous well-used laptop, also provided by KBNF, was so slow that uploading CT Scans and MRIs for review took more than 5 minutes.
Teinein Bernard, a young nurse, is assisting Alvin with his neurosurgery practice courtesy KBNF. As her responsibilities grow, we are adding more hours to her work schedule.
At present, Teinein receives calls from copious Liberians requesting a mission appointment, sometimes even at 2 a.m.
She cried to Helen the other day, saying her phone just doesn't stop ringing. Teinein also received a laptop that will also assist with inventory management.
The final laptop has been donated to the Emergency Medic Service. The one and only laptop owned by their department were held together by a lick and a prayer!
It was clearly struggling to remain operational. Mark Luke, founder, and director is deeply grateful.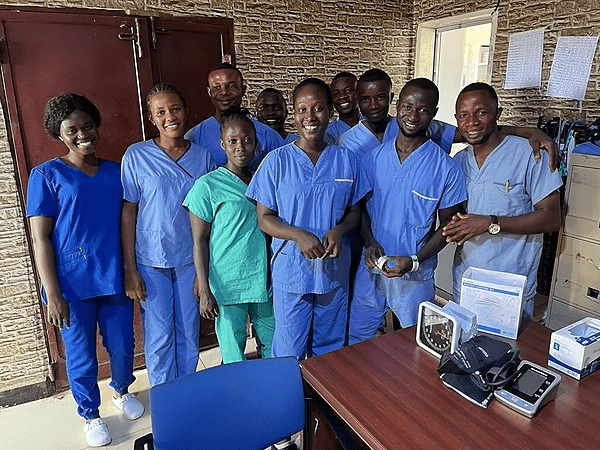 A Smile Moment

So I walk into the hotel restaurant for breakfast. Each person is asked what their room number is.
When I offered mine on the 3rd day, the hostess replied with a smile, "Oh you don't need to tell us, we know what your room number is!!!!"
We laughed. Needless to say, all the morning staff are asking how to join KBNF and have committed to donating volunteer hours. We're making an impression already.

Neuro–Critical Care 2-Day Nursing Program

Ninty plus nurses attended our 2 day nursing program.
Our mission nurses arrived from The Gambia while nurses from JFK and across Liberia joined with medic nurses to round out the attendance.
Course content included neuroanatomy, neuro (including neuro nurses 6th sense) and critical care assessment, neuro specialty caregiving, spine positioning skills, wound care, basic nursing care isn't basic, innovative chart documentation, and most vital, Heart Power – compassionate caregiving.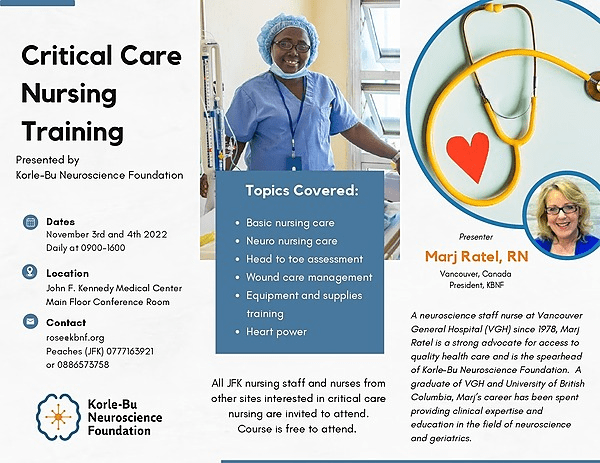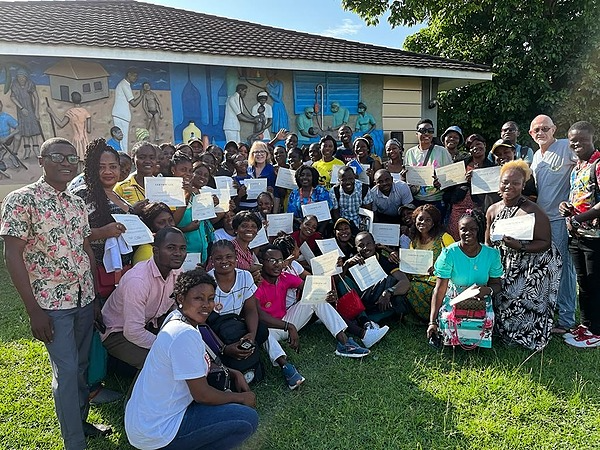 Team Arrivals
Robert Ahomka-Lindsay, KBNF Board of Director joined us from Ghana this week. We visited the Emergency Medic Services (EMS) and toured one of our ambulances.
A busy afternoon was spent at the warehouse as Mark Luke, Director of the EMS, and members of his staff arrived along with Dr. Sean Subah, CMO of Bong Mines Hospital.
Robert handled a pallet jack like a pro while considering ways we can streamline our operations.
Dr. Mark Downing, a visiting American general surgeon has conducted surgery in Liberia since 2005. He is full of passion for the Liberian people and is eager to support KBNF during this mission.
We are blessed with 2 Occupational Therapists this mission, Kristina Faulkner and Nicole Gingrich. They've recently flown in from Edmonton & Vancouver, and our biomedical engineer, Anders Engstrom joined them enroute from Sweden.
We'll keep you posted with another update next week.
Neurosurgeon Dr. Alvin Nah Doe reviewing patient files before surgeries are scheduled to begin today.
Each year KBNF's Surgical Mission brings some of the most complicated healthcare (neurosurgery) to under-resourced countries in West Africa. We focus on building local capacity by connecting the entire community of West African neurosurgery preoperative professionals.
Each mission is an extremely complicated logistical challenge involving dozens of people from 7 countries who have been meticulously planning for over 6 months. Technology allows the team to pre- screen and cooperatively assess potential patients in advance of the trip. This year a week of preparation and training the local hospital staff was added before the surgeries began.
However, Liberia is only connected to Europe and North America by @staralliance member @flyingbrussels with only a few flights per week. A logistical system that leaves little room for unseen events.
This weekend we experienced such an event. An unanticipated delay at Chicargo's O;Hare International Airport meant that the 7 members of the US- based surgery team missed their flight to Brussels and, as a result, their connecting flight to Monrovia. The team worked tirelessly from inside O'Hare and Monrovia to arrange alternative travel plans but @united was unable to route them to Brussels in time and @flyingbrussels Wednesday flight has been cancelled this week. The heartbreaking realization set in, that the team would not make this mission.
Unfortunately, travelling with the team were tens of thousands of Medtronic donated surgery toolsets and equipment that dozens of patients are relying on for life changing surgeries.
While this is a devastating setback, the community within West Africa has come together and alternative surgical toolsests have been arranged to come from The Gambia and we are hoping to fly in a neurosurgeon from Ghana earlier than planned to continue with the misiion. This has added costs to this mission because we now need to buy the screws and rods required to replace the Medtronic donation. In fact this mission still requires approximately $60,000 to be fully funded. To donate please click below.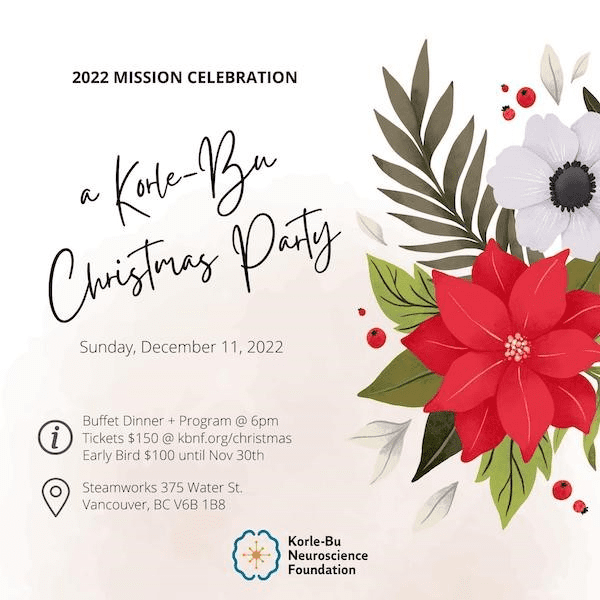 We would love to bring you along on a surgical mission so that you can see firsthand the impact that is being made through KBNF!
We know this isn't possible for everyone, so this year we want to bring the mission to you!
Join us on December 11th at Steamworks in Downtown Vancouver for the 2022 Mission Celebration: A Korle-Bu Christmas Party.
It will be an evening to hear from some of the mission participants, support KBNF's efforts to build neurosurgery capacity in West Africa, and celebrate the Christmas season together.
The evening will feature a delicious buffet dinner and premiere photos and videos from the team's trip.

Early bird price is available from November 1st until November 30th.
Grab your ticket today!
Do you know someone who wants to join our Team?
Contact Joanna Lesur on 604-789-4315 or joanna@kbnf.org to get them involved.
Our mailing address is:
9131 207B street, Langley, British Columbia, Canada, V1M 2P5
KBNF Facebook page HERE