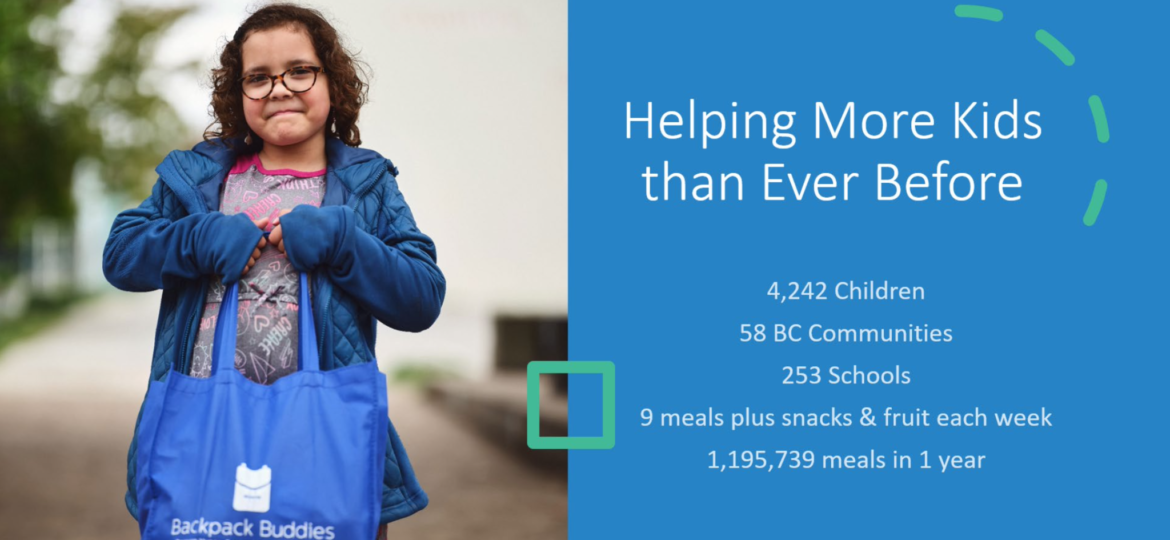 Rick's Heart Foundation strongly believes in caring of our neighbors, most importantly children. 
"Recent research shows that many children who do not have enough to eat wind up with diminished capacity to understand and learn. Children don't have to be starving for this to happen. Even mild undernutrition – the kind most common among poor people in America – can do it." 
~ Carl Sagan
Thank you, Rick's Heart Foundation for helping to tackle childhood hunger in BC!
Backpack Buddies' weekend meal program is delivered to vulnerable BC children who do not have secure access to food at home. With school meal programs helping during weekdays, Backpack Buddies steps in on the weekend, filling the backpacks of students in need with meals, snacks, fruit, and vegetables every Friday.
Backpack Buddies eliminates the barriers to food security by making food accessible directly to children who need it. And when a child is supported through Backpack Buddies, we promise to support them as long as they need us. Rick's Heart Foundation is helping us do so, coordinating Diamond Delivery to transport 11,318 bags of food with 101,862 meals to children on Vancouver Island who otherwise would go hungry on the weekend. Altogether, you Diamond shipped 56,590 pounds of food to Port Alberni, Campbell River and Courtenay, supporting 545 children. We are so grateful for your support to help us ensure these kids had enough to eat each week.
Last school year, Backpack Buddies was delivered through 253 schools and organizations in 58 BC communities in the BC Lower Mainland, Fraser Valley, Sunshine Coast, Vancouver Island, Kootenays, Fraser Canyon, the Central Coast, and in the far north in Stewart. We filled 127,225 backpacks with 1,195,739 meals.
Providing healthy nutritious food is our top priority. We have added refrigeration to our North Vancouver and Victoria warehouses and now provide better bags of food with milk, fresh produce like carrots, cucumbers, and mini peppers, and healthy snacks like hummus. We always keep in mind that food needs to be nutritious, easy for a child to prepare on their own, and familiar – foods like rice, noodles, and beans are always included.
Many children in our program are from refugee families who struggle with the high costs of food, unfamiliar stores and products, language barriers, navigating cities without a vehicle, and overcoming trauma from years as a refugee. We make sure these children have food they can count on every Friday with no need for money or to travel to a food bank. We have vegetarian and halal bags available for those who need them.
Through Backpack Buddies, Rick's Heart Foundation supported some of the most vulnerable children in BC, helping them access enough food to eat. Your help to get these bags of food where they need to go makes a tremendous difference for kids, and for our organization as we grow and expand to reach more children who need us. Thank you for your generosity and kindness.