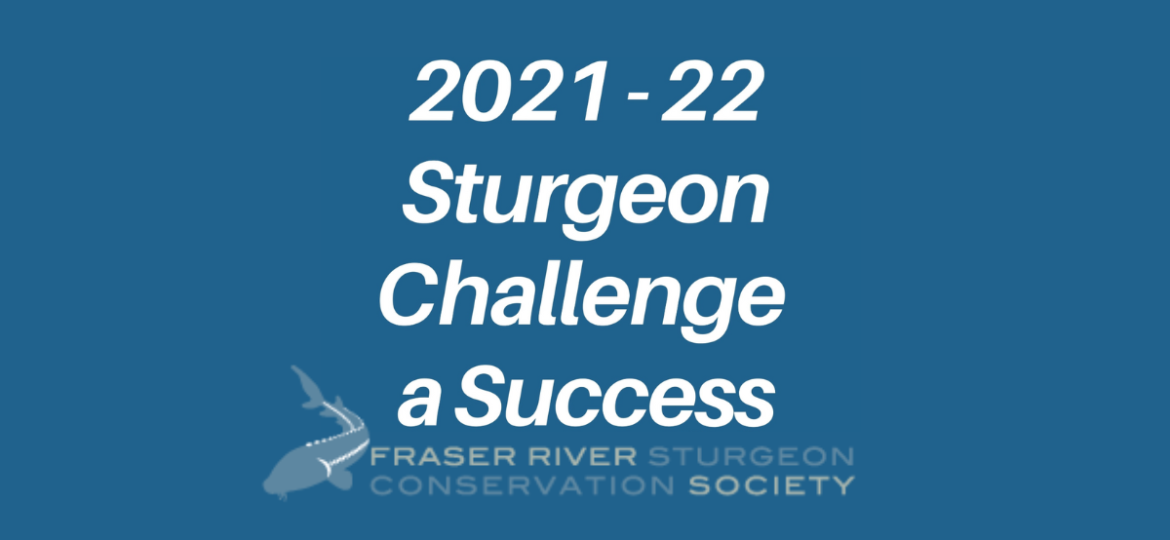 Keeping the Legend Alive!
Raised Over $150K for Conservation!
From Fraser River Sturgeon Conservation Society:

We are excited to announce that the net proceeds from "Keeping the Legend Alive"; our FRSCS Sturgeon Conservation Challenge Gala Awards & Auction 2021-2022 exceeded our last event; raising over $150,000 net proceeds for the conservation of Fraser River White Sturgeon.  
With 18 Challenge Teams fishing from April 2021 through July 2022 and covering the Fraser River from the mouth of the Fraser River at Steveston to beyond Hope, BC, our event has succeeded to share our sturgeon story with over 275 participants and guests at our Gala event. 
Here are some data highlights:
–       Teams collected data from 109 sturgeons
–       Of the 109 sturgeon sampled, 60 new tags applied 
–       And our recapture rate of 55%, lower than our overall study rate at 74%!
Congratulations to our Awards and Prize Winners:
Leadership in Conservation Awards:
Volunteer of the Year: Jim Rissling
Leadership in Conservation Award for Philanthropy: Patrick Dennett
Leadership in Conservation – Jim Rissling Award of Excellence in Conservation: Tony Nootebos
Leadership in Conservation Legacy Award: Jason Hwang
Prize Winners:
Smallest Fish at 48cm: Carlos Periera, Cretaceous Chasers
Second Largest Fish at 229cm: Marcus Abrahamsson, Team Anderson
Largest Fish at 240cm: Rocky Minhas, Seaspan Ferries
Grand Prize Team: Sturgeon Forever
THANK YOU! Dave Doroghy for doing a fantastic job as our host and MC. 
A special thanks to Wes David, Fishing the Wild West TV for sharing his conservation story, and to FRSCS Founder, Rick Hansen for inspiring all of us to focus our efforts and help make a difference.
Thank you to Rick Bourne, Langara Fishing Adventures, for providing us with the big prize – an incredible trip for four (4) to Langara Fishing Lodge. We are so grateful for your support.
And a huge thank you to all our participants, guests, supporters, sponsors, and the team of volunteers, for helping us make 2021-2022 Conservation Challenge Event and Gala a huge success!
Mark Your Calendar and Save the Date!
FRSCS Sturgeon Conservation Challenge 2022-2023:
August 17, 2022 – May 4th, 2023
FRSCS Gala Awards Dinner and Auction:
May 6th, 2023
Rick's Heart Foundation supports FRSCS Sturgeon Conservation Challenge by donating an item to their gala auction.