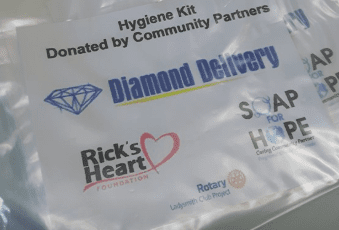 Rick's Heart Foundation is a long-term supporter of Soap For Home Canada, and we provide them with shipping across British Columbia. Below is a recent story from their Executive Director.
4 hours from ASK to SHIPPED
We were asked this morning by the United Way BC – Lower Mainland to provide Family Hygiene Kits for 500 families of women and children arriving from the Ukraine. There is an urgency to the ask as the first 50 Families arrive in Vancouver on Monday, May 2nd.
We immediately got to work to assemble the kits. Each contains family sized shampoo, conditioner, body wash, body ootion, bars of soap, 3 toothbrushes, toothpaste, dental floss, deodorant, feminine products, disinfectant wipes, Tru Earth Laundry Detergent and Elate lipstick; each in our Soap for Hope Canada bag. Each bag also had an encouraging note with warm wishes. These were hand made by one of our supporters.
Today our amazing volunteers were able to put together 200 Family Hygiene Kits…we have 300 more to assemble and get to Vancouver next week. After we finish making the Family Hygiene Kits, we will be providing bedding to each of these people. The beautiful quilts and knitted blankets we have already received will be an amazing addition to the Bed Packs we are putting together.
Time is of the essence to provide comfort and essential items to these women and children fleeing their home in the Ukraine. If you would like to help, please come to our warehouse on Monday or Tuesday (May 2 & 3) with NEW deodorant for women and/or Body Lotion. We need 300 of each to complete this request. If you would like to help and can not make it to the warehouse, please make a donation now! We have less than 1 week to make this happen.
Thank you for to everyone that has already made product or financial donations. We were only able to respond so quickly because of the generosity in our community. Special thank you to Telus, Tru Earth, Elate Cosmetics, Diamond Delivery and the many many people that have brought products to the warehouse.
With gratitude,

C. Anne McIntyre and the Soap for Hope Canada Team
(250) 590-1462