Highlights
This quarter, our youth were focused on building relationships and teamwork with their peers, many of whom they don't have the opportunity to connect with during school hours. They also took on leadership roles with some of our younger participants, leading them in skill building and boosting their self-esteem! As many get ready to transition to the next grade, and some moving on to high school, we've seen firsth and how impactful our programs have been for them.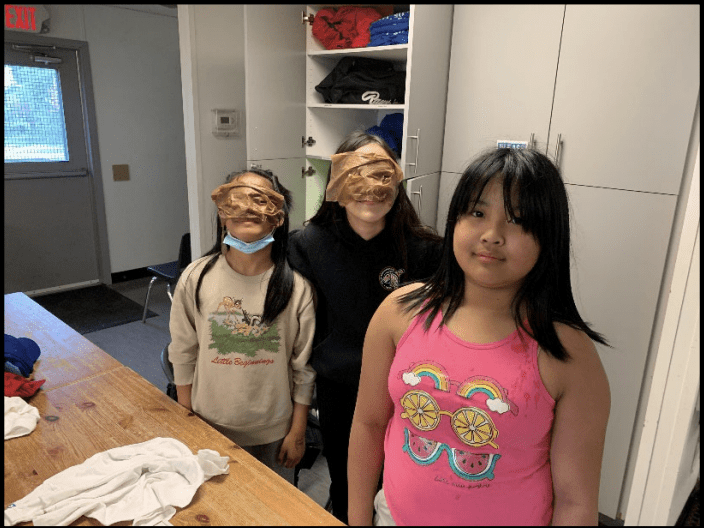 Junior Helpers
One of our pre-teens' favorite things to do this quarter was to help organize our club, including:
creating new systems for storing our supplies, collecting pieces from our board games, and making sure our club space was clean and safe. Though they do get a bit silly at times, our youth see this as an excellent opportunity to give back to the club and build their leadership skills.
Karaoke Stars
Our evening programs have been a great space for the youth to connect and have some time to do more advanced activities than the club's younger members. While they do enjoy a lot of our more structured programs, sometimes they just feel like singing their hearts out – and that's okay by us! Many of the songs on rotation come from TikTok or YouTube, but our activity leaders have been able to introduce some new music to the youth. It's a great way for them to express themselves and step out of their comfort zones!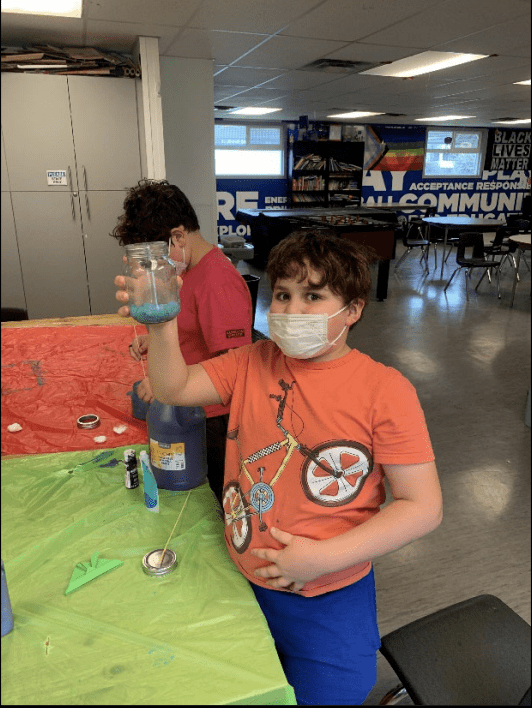 Mad Scientists
Our science programs have always been one of the biggest hits for our pre-teens, and this quarter was no exception.Many of our youth came to the staff with big ideas on experiments they could try, some of which were more imaginative than anything we could have come up with! The youth love to get their hands messy and learn how the world works through our engaging and interactive programming.
Mini Mentors
Something our youth are always excited to do is work with our younger club members, especially those who have just joined for the first time this year. You can always catch our grade fives, sixes, and sevens teaching the newest club kids how to read, draw, pick their favourite programs, and kick a soccer ball around, among many other fun activities! We have put lots of effort into creating opportunities for our youth to become mentors, including pairing them up during programs, having the youth help our activity leaders run programs for younger ages, and encouraging our oldest youth to plan activities of their own!
BGC Club Day
This year on June 3, BGC South Coast BC joined our national organization in celebrating BGC Club Day, a day all about recognizing how important the impact of our club's stream has been. The kids jumped at the opportunity to create a spectacular banner to express their connection with the SurreyClub, as well as their peers and our club leaders. Though it did get a bit messy, we're superproud of how their work turned out, and we still haveour banner – along with the memories of a fun-filled day – on display in the club!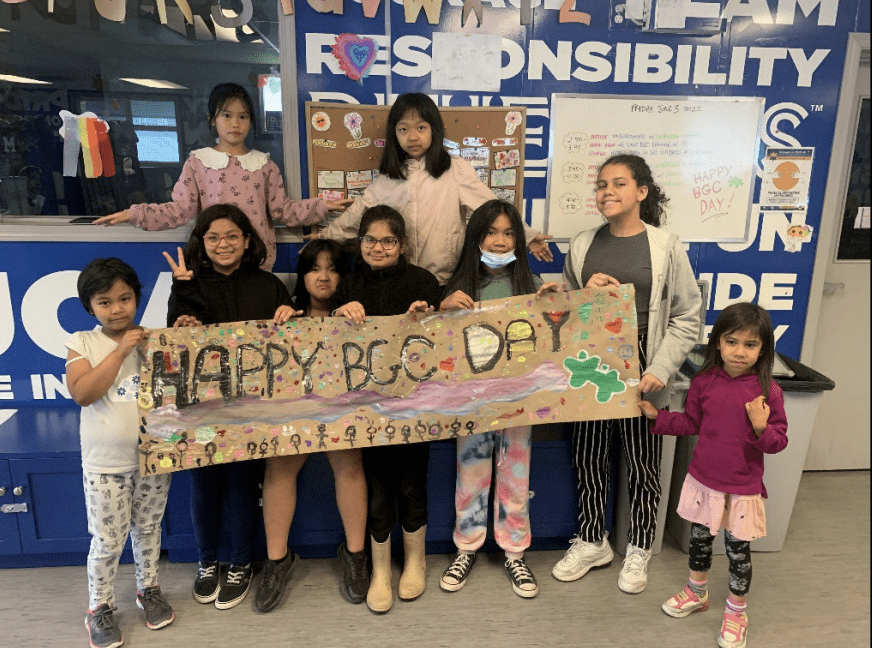 Success Stories
Chase is one of a smaller group of older youth who come to the club. As a big fish in a small pond, Chase could've easily been distant and reserved – but that couldn't be further from the truth. Often found supporting and guiding kids half his age, Chase has brought the skills he has built mentoring his three younger siblings to many of the kids at the club. Chase's family is very low-income and struggles with many factors, but Chase always shows up to the club with a smile on his face, knowing this is a safe place for him to express himself and have so much fun.
Dilisha has been coming to the club longer than most – her family is one of the most beloved by our club leaders, and dad always comes to pick up ready to share stories, as well as occasional gifts, with the club leaders. As a new pre-teen, Dilisha has struggled to fit in with her peers and often prefers to spend her time with club kids younger than herself. With a bit of a push from us, as well as encouragement from mom and dad, Dilisha began attending our evening programs this quarter, and found that her peers were much more accepting than she anticipated – and she had a lot more in common with them, too! While she still loves to hang out with her younger friends, we're happy to see that Dilisha has been able to make connections with youth her own age.
On behalf of all the youth we serve at the Surrey Club, thank you for your generous support!